Study & Share

Sermon Blog
This is Pastor Jared's weekly sermon info and his weekly Study and Share devotional Bible study. Unless otherwise noted all sermons and studies are copyright Jared Stillions 2020. The devotional Bible studies may be reproduced & shared for personal, non-sale use, provided this copyright notice is included. The studies are formatted two to a page to make sharing it easier. Weekly posts go live at 9:45 AM on Sundays.
You can find his sermon podcast on the sermon-cast page. Check back each Sunday for new content. The podcast will soon be listed with major services.
Why not put them on the same page? Due to limitations of our website builder.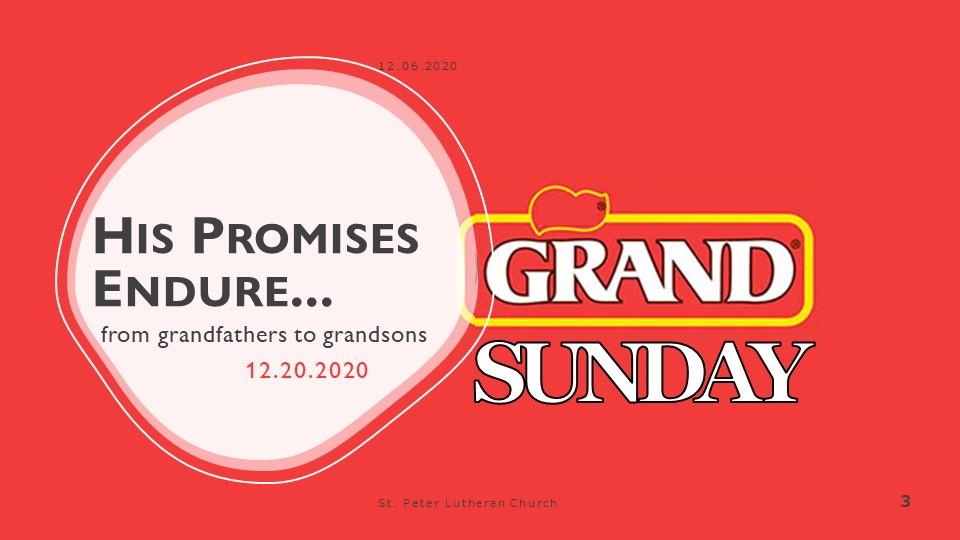 Sunday's Sermon
Grand Gifts
God's goodness and mercy aren't left the past; they stack up to give us this present, promising the future fulfillment of what they signify.
Current Preaching Series
Finite & Infinite
God's infinite promises come down to us in our finite world, especially in Jesus' promised return.
Study & Share Insert
...#2 Review the history behind v6. See Exodus 33:7-11, 40:34-38; Numbers 11:24-30; Joshua 3:14-17, 6:1-15; 18:1, 19:51, 22:9; Judges 20:26–28; 1 Samuel 21–22; 2 Samuel 6:17; 1 Kings 3:2–4, 8:4; 1 Chronicles 13:5–6, 15:1, 16:39, 21:29; 2 Chronicles 1:2–6, 13; Psalm 78:54-72 How does it provide a prototype for the promise of Emmanuel- God with us? See Isaiah 7:10-16; Matthew 1:18-25; Luke 1:26-38 How about for the promise of the Holy Spirit? See Isaiah 11:1-10; John 15:26--16:15; Acts 1:1-5, 2:1-4; 1 Corinthians 3:16, 6:19; Ephesians 2:20-22; 1 Peter 2:5
Download the rest (*.pdf) SS2020-12-20_Advent4